Each year I create at least one MOC (my own creation) to display at various LEGO® events. This year I went with Professor Snape as a portrait made out of LEGO® tiles.
He is 96 x 96 studs and is housed in a custom made frame. I converted the image to studs, added the green background and the Deathly Hallows as a little extra detail.
I debuted this piece at Brickvention in January this year. I received many compliments about this, also about going against the grain and using tiles over plates for a mosaic.
I hope to display him a few more times at more events this year.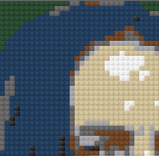 The portrait was made using 9 32×32 baseplates, this is one of the section guides that I used.