Cosplay allows me to be creative, and meet fantastic people in the community while I am at it!
Cosplay means something different for everyone. We all have different ways and styles in which we cosplay. This is what brings us all together as a community at the end of the day.
I constantly hear people say "I am not good enough to cosplay", this is a not true at all. We all have different skill levels, backgrounds, training (or lack of), access to materials, time restraints and of course budgets.
It doesn't matter if you made your cosplay from scratch, modified pre-done items…or it was a commision or a purchase online. At the end of the day we are all cosplayers.
Most importantly, it doesn't matter what body shape or size you are, the colour of your skin (on this note:please don't do blackface if you aren't that skin colour, just do you in the characters, no paint needed if you are doing a "darker skinned character", I've seen many amazing Princess Jasmine's in every skin colour there is out there!), how you identify in terms of your gender. Cosplay who you want, how you want!
The community is made up of so many people, majority willing to share advice and tips and answer any questions you have (there is no such thing as a "stupid question".
If you have a character you'd like to add your own twist too, do it! I have created a TARDIS ballgown…and a TARDIS steampunk outfit. I love adding that extra little bit of lace or edging to the cosplay to give it the final little details. I have genderbent characters such as Doctor Strange, Loki and Captain Hook.
Accuracy isn't always necessary when it comes to cosplay. Don't be afraid to do things like I did above! There are of course times where accuracy is key (kids parties, performances and character visits where you go the extra bit and learn the songs, the voice, the signatures etc). Not everyone is a born performer, and that is absolutely fine! I for one love wearing the cosplays…but you won't catch me belting out a tune in character!
Posing in character can be a tricky one as well, before the convention or appearance work out a few key poses in front of the mirror (I find being in the cosplay at the time adds to my confidence whilst I am practising the poses!) You don't need many poses 2-3 will suffice! There are many posing suggestions out in the wonderful world of the internet!
Remember, at the end of the day…Cosplay is for everybody! Don't feel like you aren't good enough, have a go if you want to, no one is stopping you (but yourself)!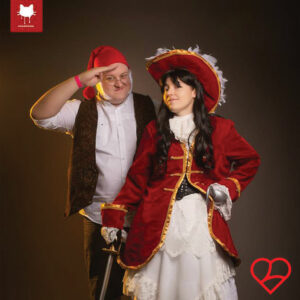 Cosplaying as a couple is fantastic.
Photographer: Steamkittens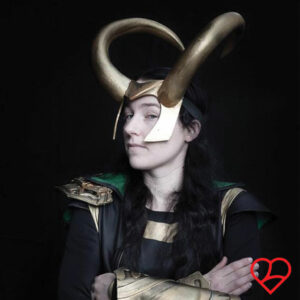 Loki- still one of my favourites, and the most comfy to wear!
Photo: Greg Elms