As a cosplayer, we are drawn to key characters that we want to make all the outfits from….Loki is mine.
I was instantly drawn to the character of Loki in the Marvel universe due to his style, the colour scheme, the character….and those horns.
Loki is my favourite cosplay to wear so far, and I will rewear it any convention opportunity that I get. This was a challenge to make as it was first time using my now favourite fabric Yaya Han's Cosplayfabrics Ultrapreme Not only does it have a fantastic finish, but it sews well and has a brilliant clean lining.
I also used many gold zips for this cosplay to line the edges of my jacket, tunic. I created faux pleats out of the black and gold ultrapreme, added the zip edge. Each was individually attached, machine sewn and finished with a hand stitch near the zips. To finish off the outfit there are matching gauntlets made of many layers of foam by my husband.
The horns were made out of insulation foam by Escapist Creative, and painted by my husband and I. I created the base that the horns sit on, and added elastic for easy wear. These are also very light to wear.
I then created a different version of Loki, (because I can't stop at one!) and went with the original history of Loki, the Nords. For this I used green leggings, a long sleeve green top, boots from an op shop, black corset. I created the gauntlets and the skirt from Cosplay fabrics Textured Scales from Spotlight.
My father in law later helped me create a Tesseract, I used a guide from Silhouette Cosplay to find the photo box, a diffusing material between the light and the outside, and my father in law created custom blue lighting for me. This was and continues to be a hit at cons!
I have more Loki's on my cosplay wishlist…I wonder which outfit I will do next?
(Main photo by Greg Elms)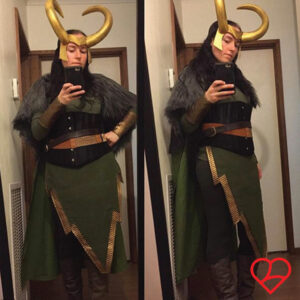 My own interpretation of Lady Loki, Nordic Style